Yes! You can still see Lois, Halyna, Marie-Josée, or Karen if you have your period. Your period will not hinder treatment in any way. If this is your initial assessment with Lois or Marie-Josée, you have the option to defer the internal exam portion until your next appointment but Lois and Marie-Josée are well equipped to give treatment at any point of the menstrual cycle. If you are thinking about rescheduling because of your period, please just come. It will be fine, we promise.
For Lois and Marie-Josée: You know your child best. If your child is able to sit quietly or nap in his/her carseat during your treatment, you are welcome to bring him/her. We do have delicate equipment in the room so if your child is more active, we suggest you arrange for childcare elsewhere.
For Halyna and Karen: We recommend that you arrange for childcare elsewhere so that your session with Halyna and Karen can be exclusively focused on caring for you.
COVID-19: While we will miss the babies at the clinic, let's keep everyone as safe as possible. To keep any risk of transmission as low as possible for everyone involved, best practice according to the enhanced protocols will be to arrange child care for your young one and come to the clinic alone.
All of our bookings are done online. To book an appointment, click on any button on our website that says, "Book Online," or visit https://beacontherapy.janeapp.com.
Once there, sign in or sign up for a login (if you're new) first. The sign in link is a the top of the screen.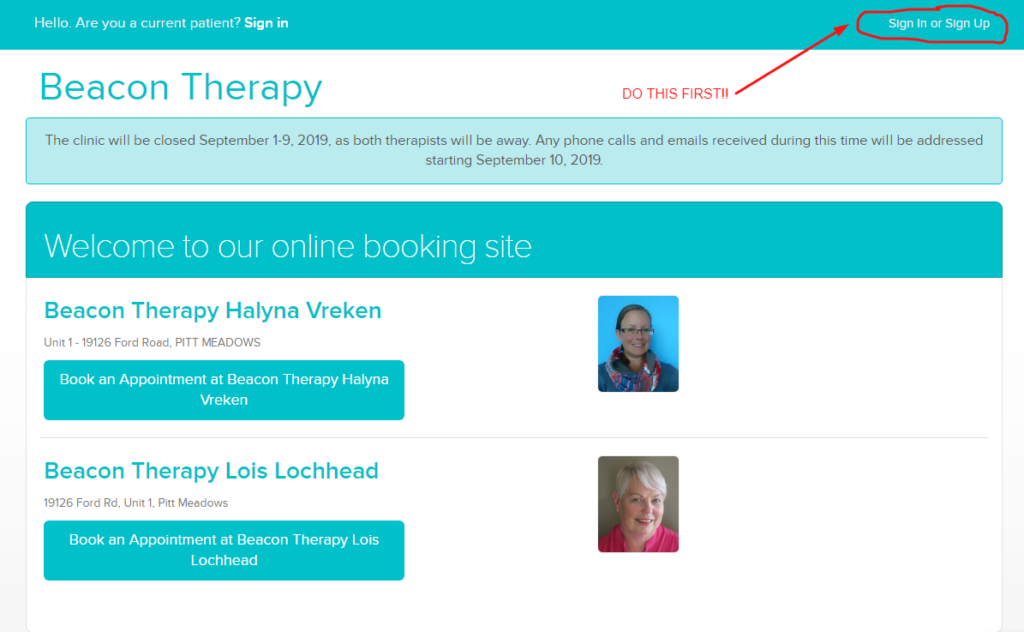 You may browse available times but don't book a time until you have first logged in. Otherwise, if you choose a time first, you'll be told to log in and then the system will show that your time has already been reserved. (If this happens, don't worry, simply wait 10 minutes for your reservation to expire and then try logging in again before selecting your time slot.)
Please remember your login and password information and note down which sign in method you used (eg, email, Facebook, Twitter, or Google). Using a different sign in method than your original one will create a new profile which won't be linked to your original profile and all your previous information won't be accessed. If you can't remember your password, you can reset it.
If your email address is used for more than one profile (in the scenario of a guardian of a minor patient when the guardian is a patient themselves), make sure separate usernames are used. Remember these usernames.
With your profile, you can update your address, schedule/reschedule/cancel appointments, and check if there are any cancellations.
If this is your first visit, please book an initial appointment along with some subsequent follow up appointments. If you are seeing Lois, these subsequent appointments can be a week apart. If you are seeing Halyna, subsequent appointments can be 2-3 weeks apart. On average, book about 2-4 visits. By this point, the therapist will have a better understanding of how you have reacted to treatment and therefore a better course of action for upcoming treatment options. It is better to have appointments pre-booked than to need to wait a few months between appointments.
For first time patients, please have your intake forms filled out before you come in. These will give the therapists important health information that will allow us to prepare accordingly for your upcoming treatments. Consent forms, information, and other instructions for treatments can be found in these intake forms. These are important for the therapists to have!
Our schedules can be quite full. If you cannot find available times, you can add yourself to the wait list. Mark your available dates and times, and if there are cancellations, we will be able to contact you to see if it works for you to come in. We suggest to still book an appointment even if it is several weeks out, and add yourself to the wait list should something in the meantime become available. Take the responsibility for booking your appointments for the frequency of what you need. For instructions on adding yourself to the wait list, see FAQ question, "What if I want to be seen sooner than the next available appointment?"
Oftentimes we will get cancellations and appointment times will open up. When that happens, we contact clients on our wait list to offer them those time slots. To sign up for our wait list, make an appointment for the next available date and then click on the link on the left side of the screen that says, "Add yourself to the wait list." Mark your available dates and times, and if there are cancellations, we will be able to contact you to see if it works for you to come in. (see screenshot below)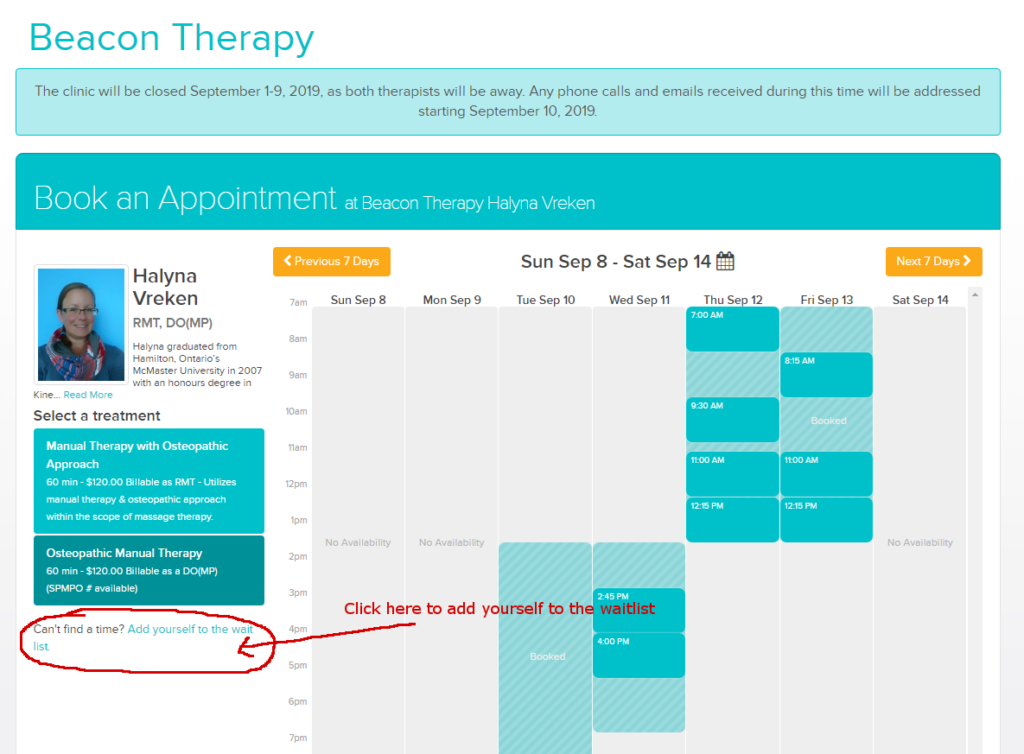 If you aren't on our wait list, we won't know to contact you. So our best advice is sign up for the wait list if you'd like to be seen sooner!
This depends on the practitioner you are seeing, and will be part of your treatment plan discussed with your practitioner.
For physiotherapy appointments, treatment frequency may be a bit closer together. This could be once every 1-2 weeks with Karen or Marie-Josée. A shorter treatment frequency would be discussed if it is necessary.
For Lois, treatment frequencies are typically once every 1-2 weeks.
For osteopathic treatments, Halyna uses more time between treatments to allow the body to adapt. This means, treatments will likely be 2-3 weeks apart at the start, with a progression to 6-8 weeks apart further on. Treatments booked within 7 days of each other will likely see one of those treatments cancelled.
While it is very common to leak urine, it does not have to be that way. Intensive pelvic floor muscle training during pregnancy has been shown to reduce incontinence during and after pregnancy.[1] 8 weeks of supervised pelvic floor muscle retraining begun immediately postpartum still shows benefits a year later.[2]
Yes. However, an internal examination will not be carried out during the first trimester due to the delicate nature of early pregnancy.
Because the pelvic floor muscles work so closely with the abdominal muscles, and the abdominal muscles are stretched during pregancy, dysfunction in one muscle group can lead to dysfunction in the other. C-section surgery interrupts the abdominal myofascial ring and this leads to avoidance of contracting the abdominal muscles due to pain. This pattern of movement may not return to normal once the pain has resolved.
It is recommended that new moms be assessed for abdominal and pelvic floor issues around the 8 week post-partum mark. This allows natural healing to occur. New moms should come in to check out their core and floor function before returning to sport.
Pelvic floor muscle training can cure or improve female urinary incontinence. It can also help with pelvic organ prolapse. Pelvic floor physiotherapy is recommended as the first line of treatment for incontinence by the Canadian Family Practice College (2003).
When women who were slated for incontinence surgery did pelvic floor physiotherapy 79% of them had sufficient improvement that they chose not to have surgery.[3]
Yes! We treat men and women.
We do not treat pelvic health for children at this clinic.
Yes. Osteopathic therapy can help with those recovering from a concussion. To read more about how osteopathic therapy can help, read our concussion page. It is safe to see an osteopathic therapist about 4 weeks after the injury occurred.
Please note: only Karen Chow offers physiotherapy for ICBC claims.
Up to 25 treatments are approved if within 3 months of the accident date. If treatments are not approved, patient must pay privately.
Dr. Lois Lochhead, Halyna Vreken, and Marie-Josée Ryan do not work any ICBC claims. If you wish to see either Lois, Halyna, or Marie-Josée after an accident, you would have to pay privately, as third party insurance cannot be claimed while an open ICBC claim is active.
References
Mørkved, S., et al., Pelvic floor muscle training during pregnancy to prevent urinary incontinence: a single-blind randomized controlled trial. Obstetrics & Gynecology, 2003. 101(2): p. 313-319 7p.
Mørkved, S. and K. Bø, Effect of postpartum pelvic floor muscle training in prevention and treatment of urinary incontinence: a one-year follow up. BJOG: An International Journal of Obstetrics & Gynaecology, 2000. 107(8): p. 1022-1028 7p.
Bond, E., et al., The role of pelvic floor muscle exercises in reducing surgical management of women with stress incontinence: a clinical audit. Journal of the Association of Chartered Physiotherapists in Women's Health, 2004(95): p. 66-70 5p.